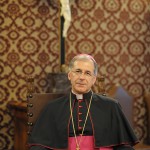 Rector of the Sanctuary
Archbishop Renato Boccardo, Rector of the Sanctuary and President of the Society
Msgr. Renato Boccardo was born in St. Ambrose of Turin (TO) on December 21, 1952. After he graduated from the Capranic High school (Almo Collegio Capranica) he studied at the Pontifical Gregorian University and the Pontifical St. Thomas Aquinas University in Rome. He was ordained a priest on June 25, 1977 for the diocese of Susa. He then got his license in Dogmatic theology and degree in Canon Law. He entered into diplomatic service of the Holy See in 1982, he served in the Apostolic Nunciatures in Bolivia, Cameroon and France. He was nominated as the Responsible of the Youth Section of the Pontifical Council for the Laity on July 22, 1992. During this responsibility he coordinated, among other things, the organization and the celebration of the World Youth Days in Denver (1993), Manila (1995), Paris (1997) and Rome (2000), plus the European Youth Pilgrimage to Loreto (1995). He was then named Head of the Protocol in the Secretary of State with special duties on February 11, 2001 (responsible of the organization of apostolic trips of the Holy Pontiff). Nominated titular Bishop of Acquapendente (VT) and Secretary of the Pontifical Council of Social Communications on November 29, 2003, he received the Episcopal Ordination in the Basilica of St. Peters in the Vatican from His Eminence Cardinal Angelo Sodano, Secretary of State, on January 24, 2004. He was nominated General Secretary of the Governorate of the Vatican State on February 22, 2005.
On July 16, 2009 he was named Archbishop of Spoleto-Norcia. He solemnly entered the Diocese on Sunday October 11, 2009.